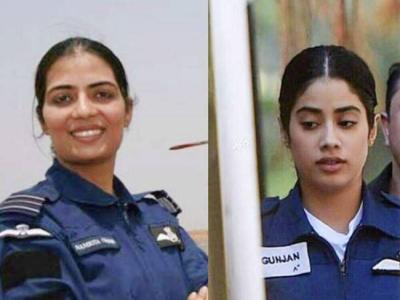 The death of talented actor Sushant Singh Rajput seems to be affecting the beauty Jhanvi Kapoor as she is unable to promote her big film 'Gunjan Saxena' that is all set to release on Netflix soon.
The actress debut was hugely expected and many producers have lined up from Tollywood but Boney Kapoor has handed her career to Bollywood stalwart Karan Johar. This ace producer has made only medium budget films and nothing was made big from him mentoring and thus Boney Kapoor has said to be looking down South!
In Bollywood, the OTT releases are just increasing day on day.'Gunjan Saxena' starring Jhanvi Kapoor in the main lead is a biopic and is produced by Karan Johar. He has good ties with Netflix and talks were finalized to stream 'Gunjan Saxena' on Netflix.
On the latest Karan is also affected badly by strong nepotism comments on him on him and Jhanvi even for a patriotic film like Gunjan Saxena shocked Bollywood men who are now unable to promote Jhanvi's film Gunjan Saxena Or any upcoming film that has nepotism actors!
On the other side Jhanvi's father Boney Kapoor is worried that all the hardwork Jhanvi put on the content-driven film would go in vain when not noticed by majority audience.