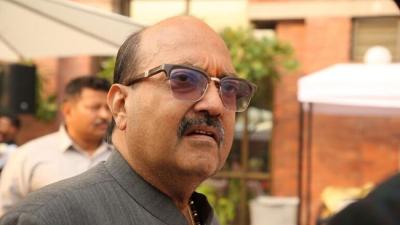 In what it could be a shocker, Senior leader and ex Samajwadi Party leader Amar Singh who has been receiving treatment for prolonged illness passed away today in Singapore.
He was admitted to a private hospital in Dubai around six months back and has been treated for health issues in an ICU ward since then. Sadly, the treatment couldn't save the leader.
Back then Amar Singh has undergone a kidney transplant after suffering kidney failure and was admitted to a hospital in Dubai
Some media reports claim that Amar Singh underwent another kidney transplant recently and the second transplant led to a would in his abdomen wall which in turn resulted in infection.
Amar Singh's corpse will be handed over to his family members very soon and it is believed that the mortal remains of the leader might be brought to national capital Delhi. He is survived by his wife and two twin daughters.
Many leaders from the ruling BJP and Congress parties paid their homage to Amar Singh. Congress party leaders, Vice-President Venkaiah Naidu and Union Defence Minister Rajanth Singh paid their last tributes to him.