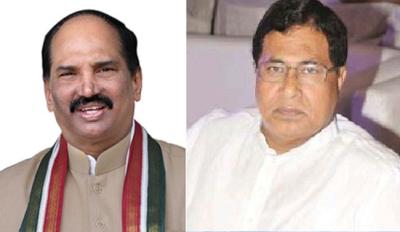 They both are senior leaders from Nalgonda district. Both have travelled together for years. Both did not change parties despite several allurements. But, both seem to be at loggerheads. Both seem to be fighting one another. The leaders are – former Opposition leader K Jana Reddy and the other is PCC chief Uttam Kumar Reddy.
The latest buzz within the Congress is that Jana Reddy has reportedly written to the high command demanding that it ask for the accounts of the amounts disbursed to various candidates who contested on behalf of the Congress in 2018 and 2019.  This is surprising as it is already two years since the Assembly elections were held in Telangana. So, why is Jana raking up the issue?
Those in the know say that the roots of the conflict lie in 2018 elections, when Uttam Kumar Reddy got tickets for himself and his wife Padmavathi for the assembly elections. On the other hand, Jana wanted ticket for him and his son Raghuveer. He wanted a ticket for his son from Miryalguda. However, the state party rejected his plea citing the principle of one family one ticket. Since then, both the leaders are said to be at loggerheads.