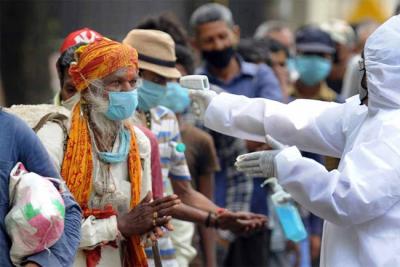 India which has been reporting the highest surge of cases every other day yeat again witnessed the highest spike in single-day with as many as 32695 fresh infections in the past 24 hours. With the new addition, the total cases in the country mounted to 968876.
On the other hand, as many as 606 fatalities in connection with the respiratory disease reported in the last 24 hours, which takes the total of the total casualties to 24915.
On a brighter note, 20783 people managed to recover from the virus in 24 hours and the total recoveries in the country zoomed to 612814 so far. The recovery rate stood at 63.25%.
Looking at the worst-hit states in the country Maharashtra(275640 infections and 10928  casualties), Tamil Nadu(151820 cases and 2167 fatalities),  National Capital Delhi(116993 cases and 3487 casualties) top the list. These states account for around 70% of the total cases in the country.
Going by the data provided by the Indian Council of Medical Research (ICMR), a total of 3.24 lakh samples were tested on Wednesday alone and as of July 15, a mammoth 1.27 crore samples were tested for the virus.