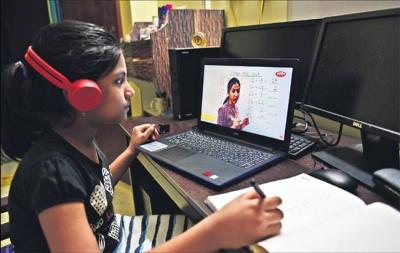 In the wake of the growing concerns about the academic year and online classes, the Union human resource department HRD ministry stepped in and issued a set of guidelines in this regard.
Talking about the new guidelines, HRD minister Ramesh Pokhriyal Nishank said, the guidelines were framed after taking the level and age of the students into consideration.
The guidelines named PRAGYATA states the children studying class 1-8 should not spend more than twp sessions in a day. The teaching session should be between 30-45 minutes.
On the other hand, the students of the higher classes can have not more than four teaching sessions per day. The guidelines also state that students studying in pre-primary classes should not sit before the screens for the classes for more than 30 minutes as it will leave an impact on their eyes and health.
To make the guidelines more authentic, the HRD took suggestions from the CBSE,  and National Council for Education, Research and Training (NCERT).
The guidelines maintained that children who get exposed to gadgets for a longer period of time are more likely to develop severe health issues which is not good for their health.