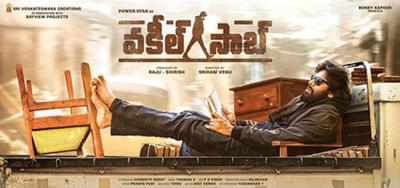 The makers of Pawan Kalyan's latest film, 'vakeel Saab' are now preparing the ground work to finish the remaining 30 days shoot as soon as possible. The Telangana government already gave permission for the post production works and shootings.
Producer of the film Dil Raju is taking utmost care in this crisis hours and is said to complete the shoot strictly in the indoors of a studio floor. First the unit would can the scenes with remaining actors and very soon Pawan Kalyan would join the sets ended Dil Raju.
Latest news tells that the makers are planning to give a surprise to all the power star fans on September 02, the birthday of Pawan Kalyan with a teaser of the much awaited film.
'Vakeel Saab'is the official remake of Bollywood hit film 'Pink'. In the original Amitabh Bachchan doesn't have a heroine and he acted his age. The Tollywood makers have added minor changes to the script to suit the sky-high commercial image of Pawan Kalyan.
'Vakeel Saab' stars Nivetha Thomas, Anjali and Ananya ('Mallesham' fame) starring in the pivotal roles. This film is the only big film to release by the end of this year.