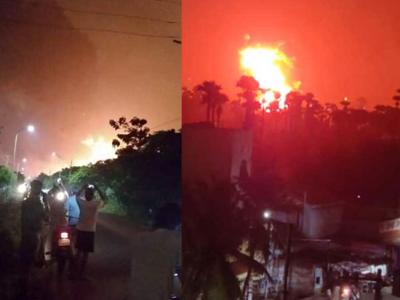 Looks like the store city Vishakaptanm is going through one of the toughest situations in recent times with the city experiencing a series of blasts. After toxic gas leakage in LG Polymers and SPY Agro-Industry leakage, one more gas tragedy took place.
The sad incident took place on the night of Monday around 10:30 pm in the unit of Ramky Solvents, Paravada's pharma city. The official details of the injuries and casualties are awaited.
After the news broke out, the concerned authorities aced quickly and called in for firefighters for dousing the massive blaze. Reportedly, one of the ten firefighters developed injuries while working on site.
If the information provided by some media reports is to be believed, dimethyl sulphide resulted in a huge blast followed by a massive blaze. One person reportedly lost his life in the incident.
To get the complete information about the blast, the ruling YSRCP constituted an expert committee to probe into the incident and submit a detailed report on the main reasons for the fire incident.
With the series of blasts inculcating fear in the public in the city, it is believed that District Collector Vinay Chand will chair a meeting in a few days to review the situation of the industries that are based out of Pharma city.