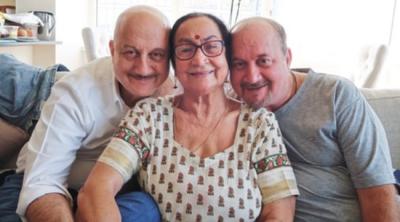 The deadly virus which is spreading its deadly wings has hit Bollywood with the industry reporting more and more infections of the disease. After the Bachchan family, a celebrated Bollywood actor announced the news of his family members contacting the virus.
Bollywood actor Anupam Kher took to Microblogging site Twitter to share the news of his family members testing positive for the respiratory disease. Actor's mother Dulari, brother Raju, sister-in-law Rima, and niece Vrinda were tested positive for the pandemic.
Anupam Kher released a short video in which he announced he was tested negative for the ongoing pandemic, while his family members tested positive for the virus. They developed mild symptoms of the virus and their health is stable now.
In his Tweet, Anupam Kher said, her mother was admitted to the famous Kokilaben Hospital in Mumbai, while the other family members were observing home-lazaretto.
Her mother went for pandemic tests after she developed symptoms of loss of appetite. The pandemic test results declared her positive for the respiratory disease.