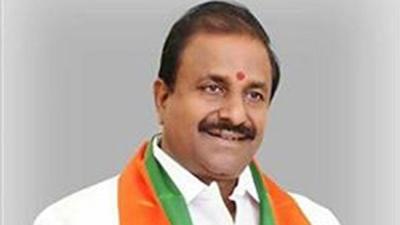 Even as the national BJP leadership is mulling leadership change in Andhra Pradesh, one claimant is moving all pawns and shifting all the gears to grab the post. He is none other than Rajahmundry's senior Kapu leader and MLC Somu Virraju.
Somu Virraju has been with the BJP ever since the party was formed in 1980 and has worked hard to establish the party in East Godavari district. He had contested elections many a time before becoming an MLC.  He has stayed with the party through the thick and thin. He was not swayed even by the Kapu sentiment riding high during Praja Rajyam and Jana Sena times. But, his attempts to become the AP party chief met with a failure. He was among the few leaders who has strongly opposed Kanna Lakshminarayana being made the AP BJP chief. But, the high command has convinced him to wait.
Now that Kanna Lakshminarayana's term is coming to an end and the party is looking for a replacement, Somu Virraju is said to be lobbying hard to become the party chief in the state. His biggest worry is that this will be his last chance to become the party chief. By next election, he would be close to 70 and might not considered for the post in view of the party's stand of retiring leaders who cross 70.