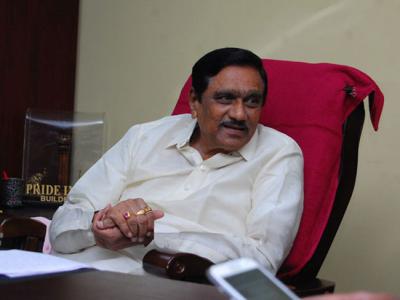 YS Jagan  Mohan Reddy's landslide victory has swept away the political careers of several old warhorses. One such leader who has found himself in dire straits is KE Krishna Murthy. He was one of the old TDP warhorses and was a several times minister. In fact, in the outgoing government of Chandrababu Naidu, he was one of the two deputy chief minsters.
But, 2019 elections have all but finished his political career. He did not even contest the elections and made his son to contest from Pathikonda. However, he bit the dust. Now, he is not wanted in the TDP and not welcomed into the YSRCP.  He has become completely inactive in the TDP. His attempts to join the BJP too did not pay off as the party did not want spent-forces. The latest news from KE stable is that while KE is seriously planning to join some party or the other to stay relevant, other members of the family, including his brother KE Prabhakar feel it is important to stay back in the TDP.
The buzz is that even KE Prabhakar tried to join the YSRCP, but the present MLA Sridevi is dead opposed to his entry. She has blamed KE family for her husband's murder and said she would not like to have her husband's rivals in the party. So, the KE family's political future hangs in the balance.