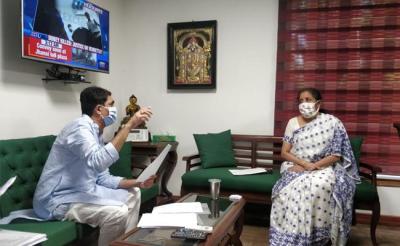 The Andhra Pradesh CM YS Jagan Mohan Reddy led government is implementing various welfare schemes in the state which in turn increased the need for funds and financial resources.
To see that these schemes will be implemented without any obstacles, the state government wants the Centre to release the pending funds in this regard.
Following this, Andhra Pradesh Finance Minister Buggana Rajendranath Reddy met Union Finance Minister Nirmala Sitharamanand requested her to look into this and release the funds which are pending from a long time. Buggana was accompanied by a team of officials.
After meeting Nirmala Sitharaman, Buggana also met G. Kishan Reddy, Minister of state for home in this regard. Buggana will also meet Union minister of state for finance Anurag Thakur and other key officials of Niti Aayog.
Post meeting Nirmala Sitharaman, Buggana Rajendranath Reddy spoke to media and said, he requested Nirmala Sitharaman to release the balance funds for various projects and welfare schemes.
Buggana went on to say that, in the last three months, the state saw a massive dip in revenue with 40 percent, and the Centre's helping hand is much needed in this crisis period.