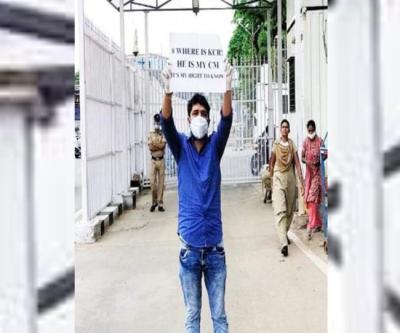 The Congress, it appears, has realised that mega protests might not really work in times of Corona. So, it is now trying out a new strategy. Instead of huge protests, it is organising protests that need fewer people, follow lockdown rules, but at the same time grab the attention.
The other day, the Congress organised a protest. Two youths came very close to the Pragathi Bhavan and suddenly raised slogans holding placards. They shouted "Where is KCR. As citizens, it is our duty to find out his whereabouts." They grabbed everyone's attention, got media to cover them, created a splash and then scooted away. This was enough to create a commotion.  They exposed the chinks in the security armour and left everyone shocked. They achieved their objective as all media houses gave them good coverage.
Later, they were tracked down and arrested. They were identified as Kotla Saibaba of Saidabad and Saikumar of BN Reddy Nagar. Both are known to be Youth Congress workers.  Sources in the Congress say that such protests would now become more common and the Government would be tormented this way. Interestingly, KCR was in Erravelli farm house as the shock protest was organised.