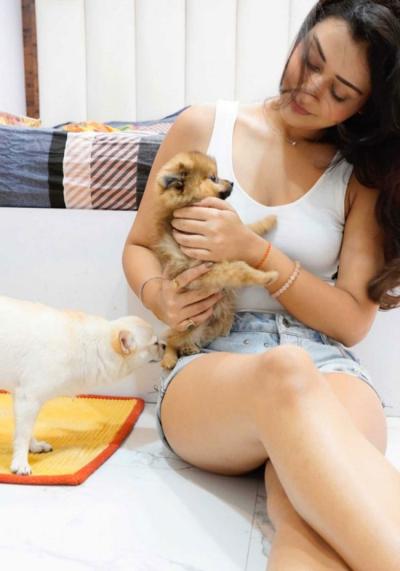 Nothing looks cuter than a girl playing with her puppy. Here we can see 'RX100' beauty Payal Singh Rajput playing with her cute little puppy which is very adorable. This recent post from this glamorous girl reveals her love towards pets and Payal is looking absolutely gorgeous.
Payal is absolutely glamorous in the white tank top and blue jeans shorts. With the hair falling on the face, Payal is sure to pull your heartstrings and makes you feel awestruck. She is both cute and titillating in this click where she shows off her long legs. The smile on her face is very beautiful, to say the least. Payal recently flew to her home after staying in Mumbai for a very long time.
Payal was last seen 'Disco Raja' which failed at the box-office. She is making her debut in Kollywood and there is a talk in the industry that she will be doing a special song in Shankar and Kamal Hassan's prestigious project 'Indian 2'. We need to wait for some time to get further information.