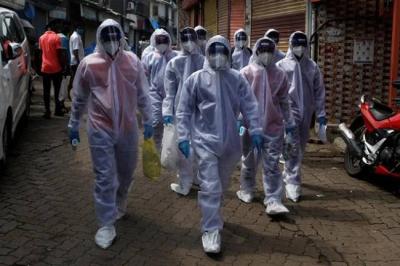 Maharashtra, which is the worst-affected state in the country due to the virus outbreak reported the highest surge of single-day cases in the past 24 hours with 6,330 fresh infections.
With the new addition of cases, the total toll zoomed to 1,86,626. The total casualties in connection with the ongoing pandemic reached 8,178, with  125 fresh fatalities reported in the past 24 hours.
 On a brighter note, 8,018 pandemic patients have been recovered in the past 24 hours and the total recoveries in the state zoomed to 1,01,172.
Financial capital Mumbai turned out as the worst-hit city in the state which has 80,262 infections and 4,686 casualties. Mumbai alone has around 60% of the total infections and casualties in the state.
With the rapid growth of fresh infections, Maharashtra extended the existing lockout till the 31st of July, while section 144 was imposed in Mumbai.
On the other hand, the total infections in India reached  6,25,544, with India reporting a record 20,903 infections in the past 24 hours. While the total fatalities reached 18,213.