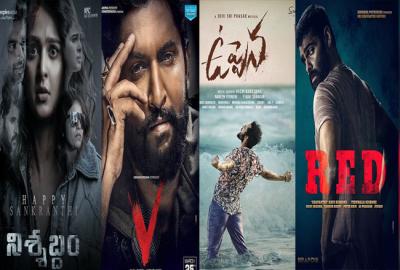 Films like 'Nishabdham' and 'Uppena' are films that have a budget of around 20-25 crores. Films like these are hesitating to get released on OTT platforms. Sources say that 'Nishabdham' deal has been set but the agreement is a never-ending process. There is a lot of gossip around it by the producers are claiming that the CG work is not yet done which is the cause of delay.
The sound mixing of Nani and Sudheer Babu's 'V' has to be done in Mumbai which is why there are no updates on this film. Director Mohan Krishna Indraganti said that he is not interested in an OTT release and Dil Raju need an offer worth at least 35 crores from any digital platform in order to recover his investment.
The digital rights of 'Uppena' have already been sold and even if the terms can be changed, Vaisshnav Tej and his family are not interested in having an OTT release as 'Uppena' is his debut flick. Ram's 'RED' is completely ready but the deal is not yet finalised as Sravanti Ravi Kishore is expected a lot of profits from this action thriller. Ram is riding high on the success of 'Ismart Shankar' which is why he wanted to make the most of 'RED' through theatrical business and he feels that the OTT platform many not fetch such high rates.
With the rest of interesting films still under production, the OTT platforms are not able to buy above-average and big films which is why they are restricting themselves to small films.