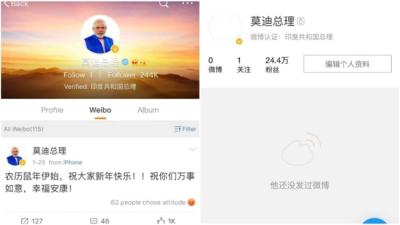 Following the violent standoff at the Galwan Valley in Eastern Ladakh, India is not leaving any stone unturned to give a befitting reply to Dragon Country China be it banning 59 Chinese apps and halting the deals made with Chinese companies.
Now Prime Minister Narendra Modi took a step ahead and opted to quit from Sina Weibo, which is a microblogging website of China. The website works just like Twitter.
Narendra Modi's profile photo, posts, and comments vanished from his Sina Weibo handle on Wednesday.
The PM went the extra mile to quit from the microblogging site, as the VIP accounts require a long procedure to quit. It took a lot of time to deactivate the account even after the official process was started.
Upon raising a request to deactivate the account, the concerns authorities said the posts should be deleted manually. However, only 113 posts out of 115 were deleted barring two posts.
The posts that were barred from delating are the posts made by Modi with Chinese President Xi Jinping. It makes it difficult for the authorities to remove the posts that have pictures of the Chinese President.