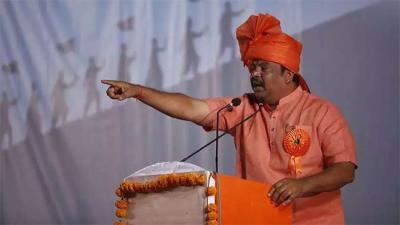 In the wake of the high-rank cases being reported in Telangana at regular intervals, BJP Firebrand, MLA Raja Singh slammed the ruling TRS party over the efforts to combat the spread of the virus.
The MLA took a sharp dig at CM KCR's remarks that even billionaires should get treated in state-run Gandhi Hospital and demanded, Home Minister Mohammed Ali and Deputy Speaker should be treated at Gandhi Hospital only.
He went on to say that, Home Minister and Deputy Speaker don't believe the facilities provided in Gandhi Hospital and went to private hospitals for the treatment. This shows the standards of facilities in the hospital.
The MLA urged the CM to step out of his farmhouse and look at the prevailing situations in the state.
'Look at the out states. They are changing private hotels and function halls as dedicated hospitals to treat the patients. Coming to our state, there are no proper facilities,' MLA said.
He pleaded the government to not take the lives of the pandemic patients and equip the required facilities in the hospitals so that patients will not face any issues during the treatment.
In two sad incidents, two patients lost their lives with a lack of facilities in the hospitals. The videos and WhatsApp chats of the patients revealed the ugly truth of the existing situations.