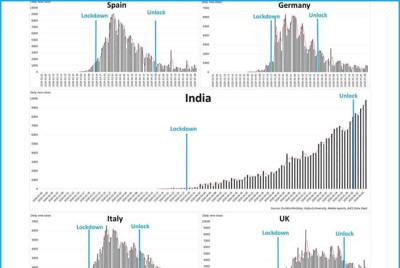 During the initial days, all the world countries including the WHO had praised India for effectively dealing with the Covid crisis by imposing a strict lockdown. However, the times after Unlock 1.0 has completely changed where the nation is recording nearly 10K new cases on each passing day. There are no strict rules during the lockdown 5.0 and we can see most of the people busy indulging their works without following social distancing measures.
Now, the nation is witnessing the peak in Covid cases. None denies that this is the time where a complete lockdown has to be implemented. But the nation is not in a situation to detain the people more than a couple of months as it severely affects the economy of the country.
Considering the lockdown in various countries, it has been implemented in a growing phase of corona outbreak and it was lifted when the effect of the virus was considerably reduced. This strategy helped them to gain the upper hand over the virus. The lockdown showed good results in countries like Italy, Germany, Spain, Britain who followed this. And, these countries gave exemption only when they found the cases are decreasing.
Compared to those countries, the situations are entirely different in India. The government gave the relaxations to the public when the Covid is at the peak stage. With this, we can say that the situation went out of the hands. A graphical representation showing the cases toll in several countries gives us clarity on what our nation is going through.