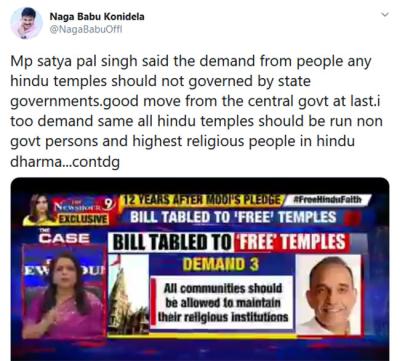 Mega Brother Nagababu doesn't seem to keep quiet even in this crisis times. Recently he rubbed off his idiotic idea on his Twitter handle by tweeting bout the Gandhi's assassin Nathuram Godsey.
He has praised the patriotism of Nathuram and said that he stood by his values and went to kill Gandhi by all odds. No one dared to tell his point of view or version said this ever idle man from the Mega camp.
Now, the actor is banking on Hindutva to reach to majority for mileage on social media. Nagababu has tweeted a tweet about MP Satya Pal Singh's demand of handing over the responsibility of Hindu temples to no-political people and thus state governments shouldn't have any rights to provide chair or authority on the temples.
Tollywood movie buffs tell that it is indirectly a jibe at the offering of SVBC head position to comedian Prithvi who faced severe trolls for his alleged misbehaviour with a lady.
The social media buffs are surprised to see Nagbabu's incline towards BJP mindset. Few people say that its all in the game to get good identity by putting the light on controversial topics!