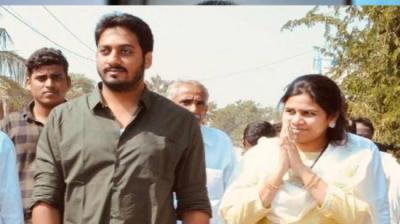 Days after TDP leader and former AP Seeds Corporation chairman A V Subba Reddy claiming that former Minister Bhuma Akhila Priya and her husband Bhargav Ram hatched a conspiracy to kill him some media reports claim that Kadapa police slaps notices to Bhargav Ram on charges of the murder attempt.
If the media reports are to be believed Bhargav Ram received notices from the cops to appear for the police interrogation in connection with the murder attempt case
It has been widely reported that the Kadapa police might arrest the Former Minister's hubby any time soon and produce him before the court in connection with the case.
The Kadapa police have successfully busted a conspiracy to eliminate the TDP leader and four people were also taken into custody. However, the TDP leader claimed that four people were hired to take his life.
Former Minister Akhila Priya rubbished all these allegations and said that it is not acceptable to come to a conclusion as the police investigation is still underway.