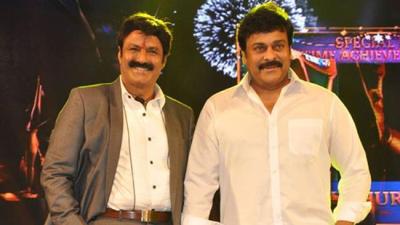 Controversies and film industry goes hand in hand nowadays. There is always one or the other controversy that grabs the headlines. Megastar Chiranjeevi and Balakrishna claim that they are friends in front of the media but it is not entirely true. Back in the day, NTR saying that he doesn't know Chiranjeevi caused a huge storm. Now, everything is settled as Ram Charan and NTR turned out to be close pals. But the recent comments from Balakrishna triggered another controversy in Tollywood.
Nandamuri Balakrishna expressed his displeasure over not inviting him to the meeting with Telangana government regarding the future of film industry. He made some serious accusations on everyone at the meeting. As we know, Chiranjeevi was the one who was in charge of that meeting. Mega brother Nagababu fired on Nandamuri's senior hero and gave warning to him. Responding to Nagababu, Balayya said that he doesn't want to speak about Nagababu as he talks something or the other all the time.
At this time, Balakrishna's birthday is June 10th and fans are planning to celebrate it in a huge way. Not just the fans but sources say that a grand event is being planned on Balakrishna's 60th birthday and a lot of industry people will be invited. So, will Chiranjeevi and Balayya come together and pose happily for the paparazzi at that event?