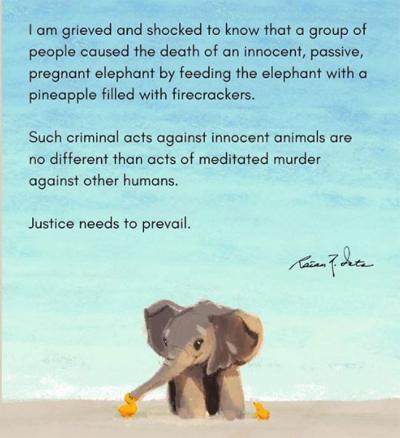 The killing of a pregnant wild elephant in Kerala has triggered a nationwide outrage. Since from the moment, the incident came to limelight, the netizens have been fuming over this incident and demanding justice for the innocent elephant.
From commoner to celebrity, several people took to social platforms to condemn the incident.
Now, business tycoon and philanthropist Ratan Tata has also joined them in expressing his sorrow over the incident.
"I am grieved and shocked to know that a group of people caused the death of an innocent, passive, pregnant elephant by feeding the elephant with a pineapple filled with firecrackers. Such criminal acts against innocent animals are no different than acts of meditated murder against other humans. Justice needs to prevail," Ratan Tata tweeted.
Responding to the outrage of the people, Union minister Prakash Javadekar tweeted. "Central Government has taken a very serious note of the killing of an elephant in Mallapuram, #Kerala. We will not leave any stone unturned to investigate properly and nab the culprit(s). This is not an Indian culture to feed firecrackers and kill.@moefcc @PIB_India @PIBHindi," he wrote.