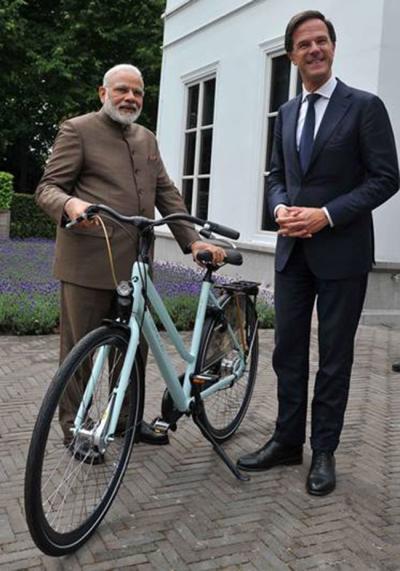 On the occasion of World Bicycle Day 2020, the Netherlands Embassy in India has tweeted a picture of India Prime Minister Narendra Modi sitting on a bicycle. In the picture, we can see Netherlands PM Mark Rutte along with Modi. And, the bicycle was gifted by Rutte.
In the Netherlands, cycling is a way of life. Netherlands PM, 50, usually cycles to work. In fact, with 18 million bicycles and just 16 million Dutch inhabitants, there are more bicycles than people.
"#WorldBicycleDay a day to celebrate simple clean #sustainable means of transportation. Netherlands is known for its biking culture. @NLinIndia congratulates the change makers in India @BYCS_org @fmrock @thepinkpedals & many more advocating for safe space," Embassy of the Netherlands in India tweeted.
Apparently, PM Narendra Modi campaigns to bring the culture of bicycles in India and here is the picture where Modi is sitting and smiling on the Dutch-made bicycle.