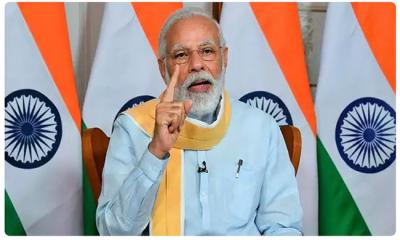 Prime Minister Narendra Modi chaired an online meeting in a virtual meeting in which many well known corporate leaders also participated. The main motto of the meeting is to focus on the growth of India.
Modi while addressing the annual session of the Confederation of Indian Industry (CII) asked the corporate bosses to commit to making India self-reliant. He spoke his heart out in the meeting.
In the virtual meeting, PM Modi said that we entered a new phase with 'unlock' and expressed his confidence that the Indian economy will see growth again. Modi called for a need to focus more on 'Made in India' and 'Made for the World' as the two aims at the power and strength of India.
Modi who asked the Corporate bosses to take an oath to make India self-reliant which is close to the Aatma Nirbhar Bharat Abhiyan said that the government is with them and they have to stand with the Country's goals.
He went on to say that the highest priority is to re-strengthen the economy which went through severe losses and added that the government took all the required steps to help the nation.