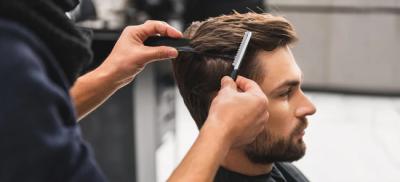 Fed up with the long, unkempt hair that grew like a scrub due to the pandemic shutdown? Want to trim it and look spick and span? Well! You may have to wait for some more time. Some of the barbers offering  ahaircut could actually be positive persons and could transmit the pandemic.
A barber who runs a saloon in Hanumanpet has begun offering haircuts to customers with the lifting of several restrictions. But, he was suffering from fever and cold. He grew suspicious that it could be a case of pandemic attack and approached the fever hospital, where the tests showed that he was indeed positive. Soon after that, his shop and his home were barricaded. It is learnt that at least 50 persons have had a haircut at his saloon. Now a search is on to locate these people. The barber does not know many of his customers by their names. So, the task of identifying them has proved to be a tough task.
So, it's better to wait for some more time before taking a haircut, say experts. Using a trimmer at home is being touted as the best method possible given the pandemic fears. Meanwhile, the barricades around the house of the barber in question have been removed and he has been shifted to Yogi Vemana nature cure centre for quarantining.