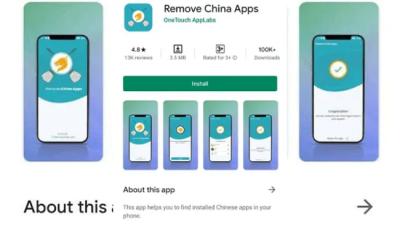 Over many years, a section of people strongly oppose the usage of Chinese products and urges to encourage Indian products. The situations after Covid outbreak fumed this argument and due to several reasons, people have either started uninstalling Chinese apps or stopped relying on Chinese products. Also, Prime Minister Narendra Modi advised Indians to support Indian business.
After witnessing these incidents, OneTouch Apps Labs has developed an app called 'Remove China Apps.' This app is specially designed to flush the Chinese apps from the phone.
The users can install this application from play store and this scans your smartphone for apps that are developed by Chinese developers. If it found any apps like TikTok, Tencent Games it uninstalls them with a single click. As of now, nearly one lakh people have downloaded this and got a solid 4.8-star rating on the Play Store.