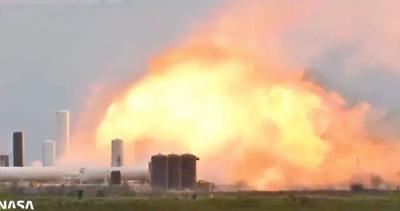 Shortly after the ignition of the engine, a prototype of the heavy lift rocket of the SpaceX exploded at the test site in Texas which resulted in a huge fireball that in turn left the vehicle in flames.
On the other hand, SpaceX is greasing up to perform an unrelated launch for NASA which will send two astronauts to the International Space Station. The mission will take place tomorrow at Cpe Canaveral, Florida.
Going into details, fully reusable super heavy lift launch vehicle Starship which was designed by the SpaceX which stand 394 feet tall exploded. It is designed in a way to carry humans along with 100 tons of cargo to Moon and Mars.
The latest explosion marks the fourth explosion of the prototype as the three test versions of the company were exploded in the past. There is no information about the injuries due to the explosion.