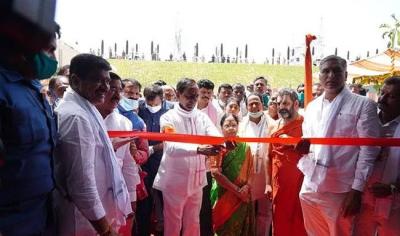 Telangana Rashtra Samithi(TRS) working President and Minister of MA&UD, Industries and IT&C KTR came up with a new meaning for his father and Chief Minister of Telangana K, Chandrasekhar Rao.
Telangana Chief Minister K. Chandrashekar Rao aka KCR inaugurated the Kondapochamma Sagar reservoir the other day.KTR took to Twitter to share the pictures and even came up with a new name for his father KCR.
KTR said that the letters in KCR name have a different meaning where K defines Kalvalu(Ponds), C defines Cheruvulu(Rivers) and R defines Reservourlu.In his Tweet KTR also stated that the project will be completed in the coming three years.
KCR also performed a Chandi Yagam at the Kondapochamma temple before inaugurating the Markook pumphouse of the Kaleshwaram Life Irrigation Project (KLIP). The new development is cited as a milestone in the lift irrigation projects.