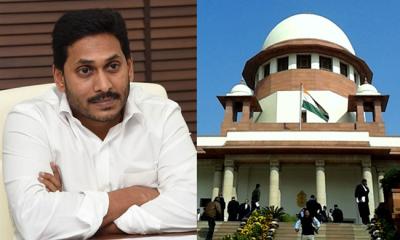 The Chief Minister YS Jagan Mohan Reddy led AP Government is in talks to move the Supremo Court to challenge the order given by AP High Court to reappoint Nimmagadda Ramesh Prasad as state election commissioner reportedly.
Some closed circles cite that, CM Jagan is having talks with the legal experts on the possibilities of filing a special leave petition in the Supreme Court to stall Nimmagadda Ramesh Pradesh.
The Constitutional bench of AP High Court which comprised Chief Justice JK Maheshwari and Justice Satyanarayana Murthy head various petitions filed on the removal of Nimmagadda Ramesh Prasad from the office.
The bench ruled out to reinstate Nimmagadda Ramesh Prasad as the state election commissioner and quashed the ordinance brought by the state government to reduce the term of the office of EC from 5 years to 3 years.
To make this happen the government made some amendments to the existing acts and reduce the tenure of EC and appointed V. Kanakaraj who was a judge in Tamil Nadu.
The High Court said that the appointment of J. Kanakaraj as the state election commissioner is not valid and added that Nimmagadda Ramesh Prasad to restore as EC with the immediate effect.