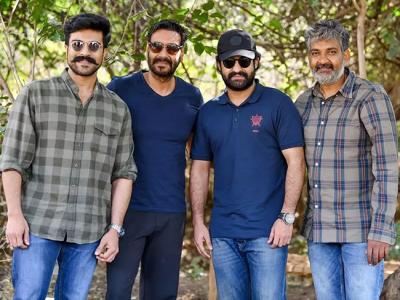 The whole World is under the crisis scare. Pandemic is the only topic everywhere in all the talks of life. The talks have changed towards the newly released motion poster of the India's finest Director from Tollywood  SS Rajamouli from the moment it was out and expectations mounted big!
The motion poster is engaging and has lifted the expectations on the film. The makers are not at all OK with the earlier announced release date of January 08, 2021.
Due to pandemic outbreak, movie lovers have thought that this film also would postpone to some other date and it became reality as expected!
Now the film loversin Telugu Filmnagar are discussing that whether RRR breaks the record of Bahubali and becomes a landmark like Non RRR records! Moreover fans are discussing the disadvantage of the cast of NTR and Ram Charan as they have South Hero looks and are not same like Prabhas who had universal appeal with his huge cutout of handsome body!
Few of the fans said that the discomfort we feel while watching a Chinese action movie would be the same feel for RRR, they ended!
It remains to be seen how far Rajamouli faces these new remarks and makes magic with these stars!