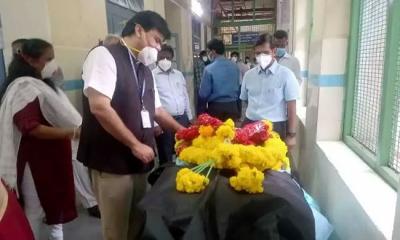 2010 batch IAS Officer T.K Rama Mani who rendered her services to Commissioner of Commercial Taxes breathed her last breath after being admitted to the hospital with fever.
Going into details, the 56 year old IAS was admitted to Guntur Government Hospital(GGH) who is suffering from fever and died in the hospitals undergoing treatment.
Looking at her service record she served as a secretary to Commercial Tax Commissioner before working as a Joint Collector in Anantapur district. As a joint collector, she made it to the headlines of national media for protecting the government lands which were allotted to the KIA Motors.
After knowing about her sad demise Chief Minister's Principal Secretary Praveen Prakash, and senior IAS officer Peeyush Kumar and Guntur district Collector I. Samuel Ananda Kumar went to the GGH and paid homage to the strict officer.
The officers also consoled her husband Murali Mohan. Her father TKR Sarma was an MLA who earlier fought for the freedom of the country.