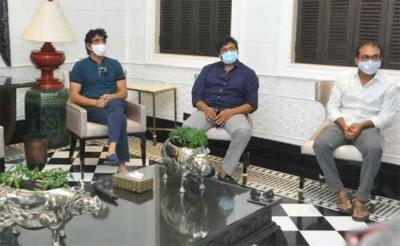 Megastar Chiranjeevi has held a meeting with the Corona Crisis Charity team to discuss about the second phase charity activities of the CCC. It is said that the discussion over Balayya's harsh comments didn't come in the talks of the meet.
Thammareddy Bharadwaja said that If the film fraternity thinks that Balayya will be of any use they will take his help definitely. His remarks should be taken lite.
C Kalyan, the other member opined that may be it is the list of CM KCR and that's why they didn't call Balayya. He shattered the bad remarks of Balayya as senseless and said that he doesn't in which flow or state of mind Balayya commented like that.
MAA Executive President Benerjee said that it was the meeting to supply the second phase of daily essentials to junior artists and daily wage labours in Tollywood.
It is evident that as the lockdown got extended the film fraternity recently attended a meeting with the Telangana Cinematography Minister Talasani Srinivas Yadav for the third time and requested him to resume shoot in the next month at least. The meeting turned up to be fruitful as the Minister promised to do anything for the revival of cinema.
The comments of Balayya not being invited by anyone and moreover his comments on the meet up at Chiranjeevi's house is just for 'distributing lands among themselves' have spurred the controversy giving headache to Chiranjeevi. Naga Babu entered the scene and warned Balayya to withdraw comments which added fuel to the fued.