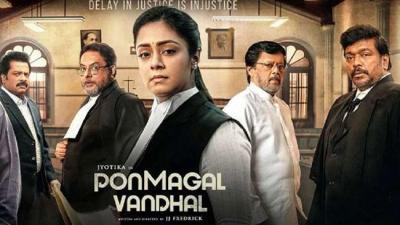 The ongoing virus pandemic has left us all in a standstill. The demand for content on TV, OTTs has surged double the need and all the platforms like Netflix, Amazon Prime and Disney Hotstar are desperately adding content to help their audience by running back mainstream filmmakers.

In Bollywood, almost all the small films have released on Amazon Prime recently. The sudden lockdown has left the producers of the film just with one option and that is- sell it to OTT!

Now, the most talked about film in Tamil Ponmagal Vandal has arrived on OTT finally. Many movie lovers are reviewing the film on social media. Some said it was a good film, others said it was a headache but overall everyone appreciated Jyothika's performance in this much hyped Court drama.

India's most subscribed OTT giant Amazon Prime is on a streaming spree. After Tamil Film 'Ponmagal Vandal' (May 29) it has big schedule every weekend as follows-  Hindi film Gualabo Sitabo (June 12), Tamil Film 'Penguin' (June 19), Kannada Film 'LAW '(June 26), French Biriyani (July 24). Malayalam Film Sufiyum Sujathayum and Hindi Film Shakuntala Devi release dates are to be announced.

Producers in Telugu are also not risking their investments any more and thus looking towards OTT platforms to make money in this crisis. They are fearing the uncertainity looming over opening of the Theaters anytime soon. It is said that the list of small films to be out on OTT in Telugu will be known by this weekend!