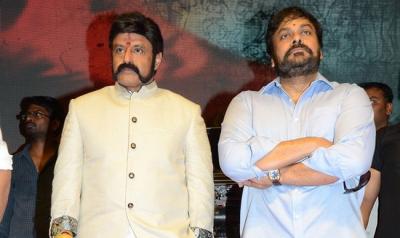 The ongoing pandemic has resulted in an economic crisis all over the World. Tollywood is no exception for it and already few producers are feeling the heat!
The latest news doing rounds in Telugu Film Nagar is all about the possible ways to resume shootings of the stalled films after the lockdown eases.
As the lockdown got extended the film fraternity recently attended a meeting with the Telangana Cinematography Minister Talasani Srinivas Yadav for the third time and requested him to resume shoot in the next month at least. The meeting turned up to be fruitful as the Minister promised to do anything for the revival of cinema.
The comments of Balayya not being invited by anyone and moreover his comments on the meet up at Chiranjeevi's house is just for 'distributing lands among themselves' have spurred the controversy giving headache to Chiranjeevi. Naga Babu entered the scene and warned Balayya to withdraw comments which added fuel to the fued.
It remains to be seen how Chiranjeevi answers two questions- Why Balayya was not invited and two- calrity on 'Distribution and sharing of lands'. Wonder how Chiranjeevi solves the issue!