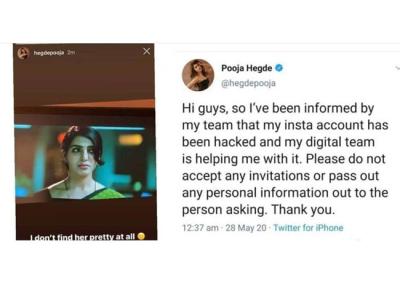 Dusky beauty Pooja Hegde's recent post trolling Samantha might or might not have been a hacker's activity but the netizens and fans of Samantha are taking it very seriously.
They are in no mood to believe Pooja Hegde's account getting hacked explanation. In Pooja's Insta story, a picture of Samantha from 'Majili' has been posted along with a comment that she doesn't find Samantha pretty at all. Her team took it off immediately but the fans re smart enough to take screenshots of it already and thrashed the Tollywood 'Butta Bomma' for her insensitive comments.
Hashtags like #PoojaMustApologiseSamantha and #PoojaMustApologiseSamFans are trending badly from this morning. This whole thing is blowing out of proportion and we need to see how Pooja Hegde responds to this incident. What do you think? Is the account really hacked?