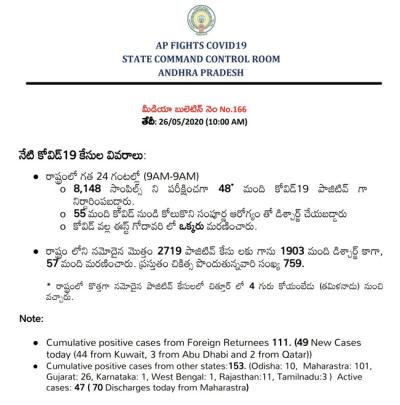 Andhra Pradesh reported 48 fresh cases of the virus in the last 24 hours taking the toll of the positive cases in the state to 2,719. The State Health Department issued a health bulletin in this regard.
The information provided by the health bulletin stated that 8,148 samples were tested in the state in the past 24 hours and 48 samples out of them were tested positive for the virus.
The good thing is the 55 patients managed to recover from the virus and got discharged from the hospitals accordingly which takes the toll of the total recovered patients to 1903.
On the other hand, 759 active cases in the state were being treated for the dreaded virus at various hospitals. To date 57 members succumbed to the fatal virus.
Talking about India, the toll of the total cases in the country stood at 145,380 with more than 6,500 cases reported across the states, while 4,167 lives were climbed so far with 146 people succumbed to the virus in the past 24 hours.