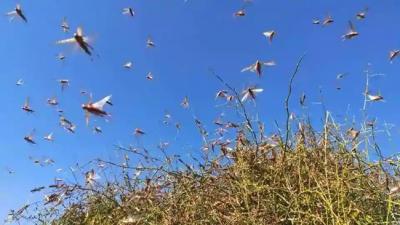 In the tough times of India struggling hard to fight the ongoing pandemic faced a jolt when the Amphon Cyclone hit hard Odisha and West Bengal. Now yet another problem surfaced in India in the form of locusts which are causing huge losses for the crops.
A scourge of locusts entered Jaipur which resulted in farmers fearing about the after-effects of this. The insects which hail from the grasshopper family known as crop-destroying insects.
This new development is cited as the worst attack of the locusts in the last 26 years as the swarms of locust entered in India a month earlier and this might post a serious threat to five states.
Uttar Pradesh and Rajasthan reported the attacks of locusts on agricultural lands and Maharashtra and Delhi were alerted by The Union environment ministry over the attack.
The locusts have entered the India-Pakistan border and the scientists cited that climate change and cyclones in the Indian Ocean might have triggered the locusts to enter the states a month prior than usual.
The Officials of the agriculture department in Jaipur witnessed the locusts flying in the city raising many questions. Measures to get the condition under control are underway like using drone technology and high-effective sprayers.