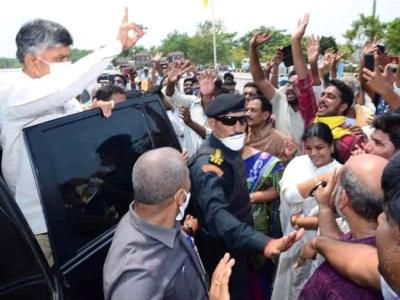 Former Chief Minister Chandrababu who stepped on Andhra Pradesh after along back of two months faced a shock on day one as a case was filed against the opposition leader.
YSRCP MLA Vennapoosa Gopal Reddy moved the High Court and filed a petition against Chandrababu Naidu for violating the lockdown norms and social distancing measures.
The petition of the MLA gained a lot of significance as earlier the High Court served YSRCP leaders for not following the lockout measures. Another case was filed by a Chittoor resident on Naidu for not following the lockout measures as TDP supporters rushed to see their favorite leaders snubbing the social distancing norms.
The Chittor resident who filed a complaint on Chandrababu submitted the visuals and pictures as profs in the cases to AP DGP. The compliant copy of the case went viral on social media.
In his complaint, the complainer expressed his shack over the opposition leader not following social distancing norms when the pandemic is showing its deadly impact