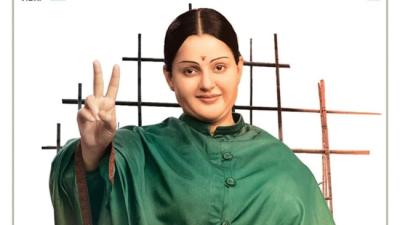 In recent days, we're hearing a lot about A. L. Vijay's biopic on the former CM Jayalalitha. We are fully aware that Kangana Ranaut is playing Jayalalitha role in the film.
As per the sources, A. L. Vijay will be showing some of the important incidents happened in Jayalalithaa's life right from the beginning to the end.
It is heard that Kangana will be seen in five different changeovers in the film as she will be playing the roles from an 18-year-old girl to 60-year-old lady in the film. The talk is that Kangana is learning Tamil fully to perform well on the screen.
Since it is Jayalalitha's biopic, it has huge demand in the Kollywood. Also, there will be a good response from Telugu and Malayalam audience. So, the makers are confident in getting their investment back with good profits. This film may hit the screens next year, but there is no official announcement on this yet.