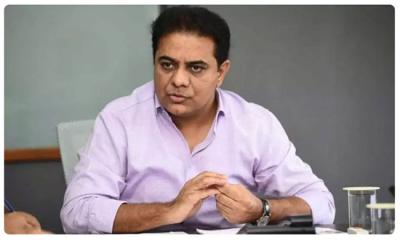 Minister of MA&UD, Industries and IT&C K. Taraka Rama Rao, popularly known as KTR who is strictly angst erecting banners got irked by a Corporator who set up a Flexi
Going into details, Earragdda Corporator of All India Majlis-e-Ittehadul Muslimeen(AIMIM) party Shaheen Begum erupted a flexi and got fined by the GHMC for this.
KTR who visited the Sultan Nagar area of Erraggada for inaugurating a Community Clinic and marking his visit to the area, the Corporator erupted a flexi that did not go well the Minister.
KTR directed the GHMC Officials to fine the Corporator and his wife Shaheen for erupting the flexi and till they were fined he will not even inaugurate the Community Clinic.
While the Corporator was slapped a fine of Rs 20,000, his wife was served with a fine of Rs 1,000 and after fining the couple KTR inaugurated the Community Clinic.