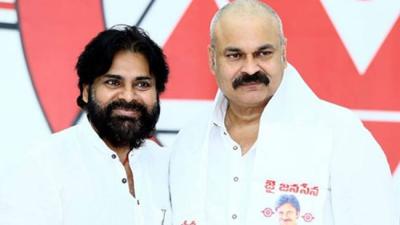 Mega Brother, Janasena leader Nagababu who hit the headlines with his controversy Tweet on Nadhuram Godse who shot dead Mahatma Gandhi once again finds himself in another controversy with his latest Tweet.
This time Nagagabu expressed his thoughts on currency notes and Gandhiji's images on the currency notes. He wants to see the images of other freedom fighters who lost their lives in freedom fights.
Nagabbau took to Twitter and in a series of tweets he said that he wanted to see the pictures of other great personalities who fought hard for the Independence of India.
"I wish to see the picture of the great personalities like Subash Chandra Bose, Ambedkar, Bhagat Singh, Chandra Sekhar Azad, Lal Bahadur, PV Narasimha Rao, Abdul Kalam, Savarkar, and Vajpayee on Indian Currency notes. I hope that people should not forget the great personalities who fought for Independent India," read his Tweet.
"If Mr. Gandhi was alive, he will definitely tell to respect others who served the nation as he did. Except for the names, we cannot remember the faces of the great personalities who sacrificed their lives for the sake of the country. The governments have the responsibility to introduce these leaders for the coming generations," Nagababu Tweeted.
Ever since Janasena had an alliance with Bharatiya Janata Party, Pawan did not miss any opportunity to impress the BJP. Be it lauding the ruling of Modi and imposing of lockout, Pawan did not miss any stoned unturned to be in the good books of the party.
Now its the turn of hos brother Nagababu to impress the saffron party. His recent Tweets are aimed at impressing the BJP and RSS.