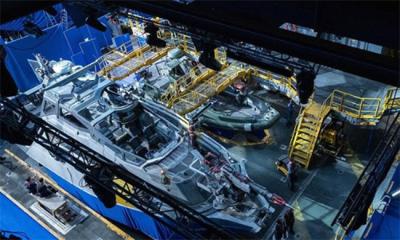 Avatar film released in 2009 and was the highest-grossing film ever until the release of Avengers Endgame. The sequel of this film was stalled due to the ongoing outbreak in March. And now, the Producer Jon Landau has revealed that shooting will resume in New Zealand next week.
Jon Landau took to Instagram and posted two of the movie's awesome looking ocean-going ships and wrote, "Our #Avatar sets are ready — and we couldn't be more excited to be headed back to New Zealand next week. Check out the Matador, a high speed forward command vessel (bottom) and the Picador jetboat (top) — can't wait to share more," Jon Landau wrote.
Like every other country, New Zealand was also hit by the novel coronavirus, but circumstances have improved there, allowing the team to resume production.
So, Avatar 2 will be the first Hollywood biggie to start filming in the wake of the pandemic. This film is scheduled to hit the screens on December 17, 2021, and Zoe Saldana, Sam Worthington, Kate Winslet, and Cliff Curtis playing the lead roles.