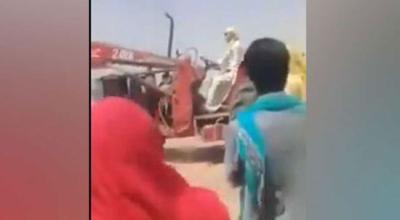 When the world is fighting the pandemic and asking the people in the country to stay at home to fight the virus, Pakistan demolished the colony in Punjab province where Hindus reside mostly.
The shocking incident took place in the Bhawalpur area of the province. The main twist in the story comes as the demolishing of the houses took place in the presence of Pakistan Housing Minister Tariq Bashir Cheema.
Principal Information Officer of Pakistan Shahid Khokhar was also present at the time of demolishing of the Hindu Basti. The pictures and videos of a bulldozer demolishing the houses went viral on social media.
Hindus are minorities in Pakistan and treated very badly. When the lockout was imposed in the country in the wake of the spread of the virus, Hindus were not even provided essential goods and food.
A few days back, the Human Rights Commission of Pakistan found fault with the way the government is treating the minorities and slammed the government for not protecting their rights.