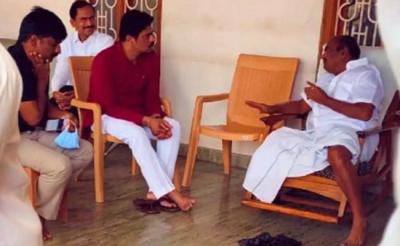 In a much shocker to the TDP and the party sympathizers, TDP leader JC Diwakar Reddy met BJP MP CM Ramesh who shifted his loyalty to the saffron party after the BJP lost the elections cheaply.
This incident has once again added fuel to the rumors of JC Diwakar Reddy joining the saffron party. Though the speculations emerged after CM Ramesh and Sujana Chowdary joined the BJP, JC denied those rumors.
Now it's looking like JC might shift his loyalty and join the saffron party as he has to save his business which is rumored to be running illegally.
Soon after YS Jagan Mohan Reddy led YSRCP came into power it started looking at the irregularities and scams that happened during the regime of the previous TDP government and as a result, JC Diwakar Reddy's travel business has to go through the rough times.
It is believed that along with JC some other members will also be joining the BJP party reportedly as when CM Ramesh met JC Diwakar Reddy at the latter's farmhouse in Tadipatri, TDP Legislative Council member B Tech Ravi was also present.
TDP is covering the issue and said that this is just a casual meeting as both JC Diwakar Reddy and CM Ramesh were good friends and added that JC has invited CM Ramesh for a casual lunch.
Let's see whether JC will remain in the TDP party or shift his loyalty to the saffron party like his fellow MPs CM Ramesh and Sujana Chowdary.