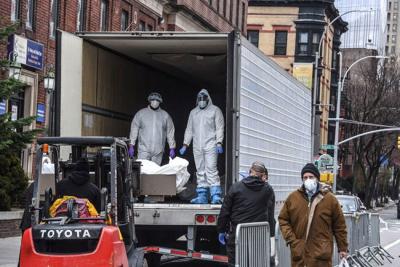 With the rise of positive cases in deaths in the country, it has been widely reported that the Pentagon has ordered 100,000 military-style body bags for civilian use following the warnings of the US that the nation might witness more and more deaths in the come weeks due to the pandemic.
The Federal Emergency Management Agency has requested 100,000 body bags, which are called as Human Remains Pouches, through an interagency group as the warning cited that more 200,000 lives are expected to be lost with the COVID-19 virus.
"The Defense Logistics Agency is currently responding to FEMA's prudent planning efforts for 100,000 pouches to address mortuary contingencies on behalf of state health agencies," Lieutenant Colonel Mike Andrews said.
The Department of Defense and the Defense Logistics Agency have a longstanding arrangement with FEMA to procure key commodities from DLA's industrial partners during crisis response operations," Colonel added.
"This is going to be a painful two weeks. Our strength will be tested, our endurance will be tried," Donald Trump said.
216,553 infected cases and 5,139 deaths were reported in the US so far which is ringing the danger bells.