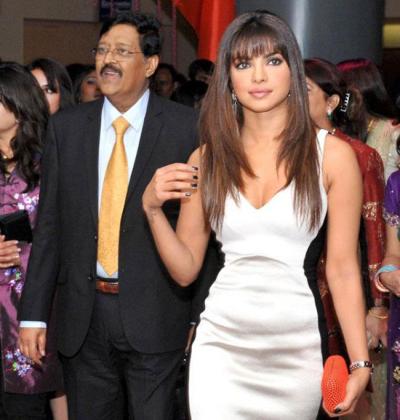 Talk of the Town beauty Priyanka Chopra had married Hollywood star Nick Jonas and settled in the Hollywood. She got a good recognition globally for her charm and acting skills.  
Recently Priyanka has revealed some interesting memories of her with Ashok Chopra, her father.
When Priyanka is 12 years old, she went to the US for her education. When she turned 16, she returned to India. The moment Ashok Chopra had seen Priyanka in the airport, he got shocked for her dressing style. Priyanka wore a tight and hot outfit which looked embarrassing for Ashok. While going, Priyanka was very decent in her dressing, but after staying in the US, her dressing style was completely changed.
With this, Ashok fired on Priyanka for wearing tights outfits. They both argued on this issue for a while. However, they both ended their argument with a smile. "No matter how many times we fight, we used to be like a best friends," Priyanka said.