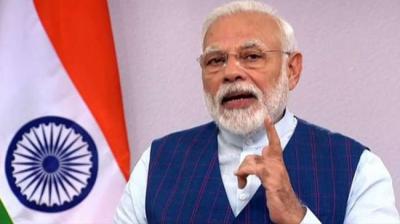 When the announcement that Prime Minister Modi would address the nation at 9 AM on April 3 was made,  there was lot of anticipation and curiosity. The people started making wild guesses. Some thought Modi would announce financial emergency. Yet others felt, he would crackdown on communal and fundamentalists who were trying to subvert the lockdown by refusing to undergo Corona tests and are attacking the medical and security staff. Still others felt that Modi would announce Army rule in the country.
But, Modi, a past-master in keeping the people guessing, asked the people to light lamps, candles, flash torches and mobile lights at 9 PM on April 5 for nine minutes as a mark of solidarity in the fight against the Corona. Through a message broadcast to the nation, he said this would show the power of the people's resolve and demonstrate the ability of the 135 crore Indians to stand together. Adding a dash of patriotism, he asked the people to meditate on Bharat Matha for a few minutes on the day. The great communicator that he is, he did not forget to remind that the people should not come out of their homes and break the lockdown Lakshman Rekha.
Like the tolling of bells at the Janata Curfew on March 22, this programme, without doubt, would be eagerly and enthusiastically lapped up by the vast masses of the country. This will create a sense of oneness, belonging and brotherhood. It will also give the people a purpose in the fight against Corona, sociologists say. Now let's see how India responds to Modi's appeal!!