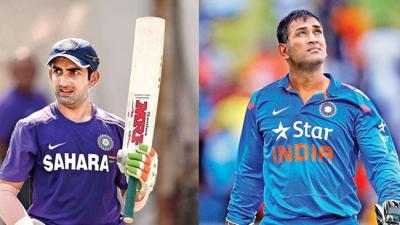 Some people refuse to bury the hatchet. They don't seem to forget past rivalry and carry it into the present. Take for instance former cricketer and present MP Gautam Gambhir.
On April 2, cricket news site Cricinfo tweeted about Indian winning the World Cup in style in 2011 on the same day, with a photograph of Dhoni hitting that winning shot – a sixer- with a caption – "on this day in 2011, the shot that sent millions of Indians into jubilation." There were many laudatory messages and many more going nostalgic. But, one player who wasn't exactly happy with this pic was Gambhir himself. He shot back through a tweet saying: Just a reminder @ESPNcricinfo : #worldcup2011 was won by entire India, entire Indian team & all support staff. High time you hit your obsession for a SIX.
Gambhir's tweet was trolled to no end by several cricket lovers, who sought to highlight Gambhir's poor form in the World Cup. One twitterati posted a pic of Gambhir being clean-bowled and wrote: Gambhirrrr finishes off in style, a magnificent bowled into the stumps...Gambhir on his way to Pavillion...India is close to lift world cup after 28 years...& it was Indian Most jealous Player who's been absolutely magnificent in the night of the final..." Another said: Player achha thaa yaar waise...kaash itna achha insaan bhai hota. But, Gambhir had his supporters too. One supporter wrote: Kyunki koi usko uska credit nahi deta jo wo deserve karta hai uss final innings ke liye. Under pressure aake 97 maarna is not a joke. Insan hai wo bhi.
Gambir's animosity towards Dhoni is legion and everyone knows it.