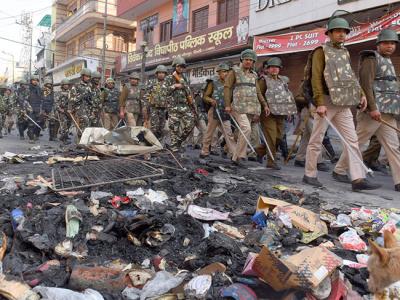 Is there a systematic attempt to foment religious fundamentalism in the city of Hyderabad? Yes, say the police. They feel that a Delhi type situation was being planned in Hyderabad and miscreants were trying to incite communal passions.
The arrest of two youths -  Arshad of Riasat Nagar and Wasim of Baba Nagar – has unravelled the devious plan. The two youths prepared petrol bombs and carried them on a bike. They conducted recce on several temples for a few days and then hurled the petrol bombs on the Pochamma temple in Madannapet and another temple in Santosh Nagar. However, they did not explode and a major incident was thus averted. They also broke into an ATM at Chandrayanagutta and tried to set a bus belonging to Midhani on fire. The police tracked them down on the basis of the cctv footage and arrested them on Tuesday. The youth are said to belong to a fundamentalist radical organisation active in the Old City.
The police said they were planning to incite communal passions in the area and create unrest. The two culprits have admitted to their crime and further investigation is on.