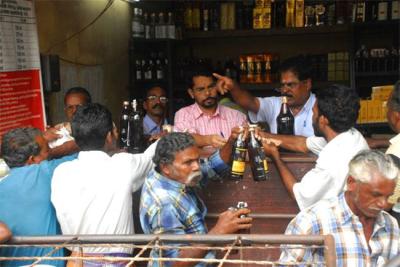 The Kerala government has come up with a new decision to provide liquor for alcohol drinkers if they get prescriptions from the doctors for their daily booze dose as the lockdown is imposed in India.
Following this, 3o applications were filed in God's own country to get their hands on the booze. But they have to wait one more day to get alcohol in the state even though they have doctor prescriptions.
Since the first day of every month is observed as a dry day in the State, they may not be able to buy their quota of alcohol from the Kerala State Beverages Corporation (Bevco) on April 1.
It is expected that the Kerala government might make the alcohol available from On April 2, on the production of the medical pass certified by the Excise Department.
"Some applications were rejected as the certificates indicating that the patient had alcohol withdrawal symptoms were issued by retired doctors. Only serving government medical doctors are authorised to issue such certificates," said S. Aananthakrishnan, Excise Commissioner.
Valid applications are being processed. The role of the excise department is to issue passes and the distribution of alcohol. The department expects a few more applications in the coming days as there can be more such persons, he said.